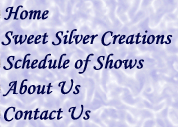 Brenda & George

Tina & Greg
About Us
We just love old silverware! My husband George and I have spent many, many hours over the years combing thrift stores, garage sales and antique stores for interesting, rare and unusual silverware. As our vast collection grew so did our ideas of what to do with it all. It finally all came together in late 2002 when Sweet Silver was born! George's mechanical ability and my design ideas together create the unique, one-of-a-kind items featured at our shows and shown on this website.

We handcraft each piece from a variety of authentic, vintage silverware. Each piece is unique due to the design and wear of the silverware. Sometimes a fork will just demand to be a zipper pull and other times it immediately suggests a pendant or an easel.

Vintage Coin Creations... We have had the coin creations since 2009 and we are happy to be able to offer them at least through 2011.
Be sure to check out Sweet Silver at The Handcrafter's Barn in North Conway, NH should you be up that way.


Our son and daughter-in-law, Greg and Tina, also are a part of the Sweet Silver family (Sweet Silver Three), collecting and creating their own designs,doing shows in Northern CA and in Western NV.
How to order...please give us a call at 530.672.0101 Pacific Time. The website is not inter-active. Too many silverware patterns to even begin to showcase them.
Check our the October 1, 2010 issue of Jewelry Affaire magazine to see Sweet Silver featured on pages 91-94. It's published by Stampington and they did a beautiful photo shoot of many of the pieces in the line. We are thrilled to have been chosen for publication...all because they saw some pieces in Southern California that the Tattered House gals took down to one of their shows!